Our sourdough, yeast & sweet bread cooking classes are all about your hands getting into the dough, your questions getting answered and your fun baking experience.
Of course, you'll always have something delicious—made by you—to take home and enjoy too.
Whether you are a 'never-baked-before' beginner through to 'been-baking-for-a-while' enthusiast, we have a course for you.
You'll learn from award-winning baker, Matthew Thorpe.
With over a decade of professional baking experience in Adelaide, and national & Europe-based work experience—and teaching people to bake since 2013—Matthew's highly rated relaxed and informative guidance will help your baking.
find a class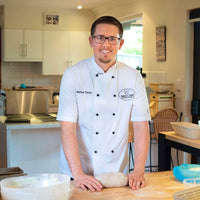 What some of our students think:
"Matthew has been incredibly helpful and supportive in my sourdough adventures." 

Amie K. (Sourdough Bread Intro; Continuing Sourdough Breads)
"The course was excellent... so far I have made 8 dozen for my extended family and friends..."

Jeff B. (Hot Cross Buns)
"I really enjoyed the class and was impressed at the way you managed to give us practical experience of all the stages in making sourdough..."

Sally D. (Sourdough Bread Intro)
"Much was learned! Confidence was built!" 

Deborah A. (Continuing Sourdough Breads)
"Your method of instruction was very thorough and professional."

Maurice K. (Sourdough Bread Intro)
"I've always found the idea of bread making, particularly sourdough bread making, intimidating. You made it simple, straightforward and fun."

Megan H. (Sourdough Bread Intro)
"As usual, your instructions make the process easy and the time spent in class was great fun." 

Pat K. (Hot Cross Buns)
"Matthew's classes are very informative and a lot of fun." 

Ian B. (Sourdough Bread Intro; Sweet Yeast Breads)
"Your sourdough and hot cross bun classes were the best cooking classes I have ever done."

Sean N. (Sourdough Bread Intro; Hot Cross Buns)
Tools and equipment for your baking
Flours, grains & Ingredients for your baking