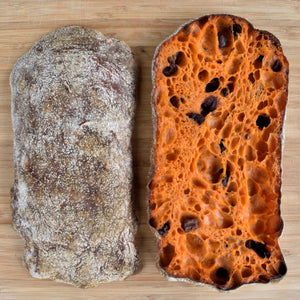 Roasted red capsicums, local McLaren Vale olives, our sourdough starter and a pinch of bakers yeast (semi-sourdough) combine with Laucke Flour Mills wheat flour for this delicious medium-sized ciabatta loaf. 

The dough is fermented until fluffy and full of air and carefully divided and baked on our hot stone-based oven. 
*To crisp crust and soften inside: place on baking tray and bake in 180 C oven 5-8 minutes to preferred crispness. Also excellent sliced lengthways and toasted on a BBQ or under a grill until crisp. 
**To freeze, seal in plastic bag (or equivalent) and freeze for up to 1 month.