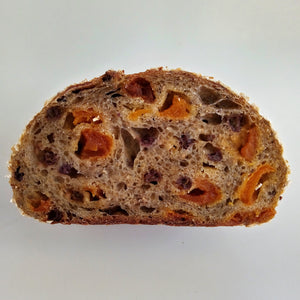 "Delicious rich flavours, sweetness and aromatic spices. Enjoy a slice (or two) fresh as a wholesome snack or dessert." 
Our apricot and walnut sourdough loaf celebrates the rich flavours of Riverland dried apricots and lightly toasted creamy Californian walnuts. We add Australian currants and cardamom and cloves to complement the flavours of this wholesome sourdough loaf. A scattering of chia seeds adds an additional dose of goodness. The crust is rolled in Australian chopped rolled oats for an added textural contrast.
The dough is naturally fermented (wild yeast and bacteria) over a couple of days, gently hand-shaped 'free-form' and baked on the stone floor of our oven.  
Our special blend of quality Australian flours includes Laucke Flour Mills wholemeal flour and high protein wheat flours and single origin Flinders Premium Grain high protein flour. We do not add commercial yeast or artificial preservatives.
STORAGE: this loaf keeps well in the paper bag (or airtight bag) for a day or two at room temperature. It also freezes well for longer keeping in an airtight container or bag.
(vegan)
INGREDIENTS: wheaten flour (contains folic acid, thiamine), wholemeal wheat flour, water, dried apricots (contains sulphur), currants (contains vegetable oil), walnuts, chia seeds, rolled oats, iodised sea salt, spices (cardamom, cloves)
ALLERGEN INFORMATION: contains gluten, wheat, soy, sulphur, tree nuts (whilst due care is taken, our kitchen may have present: tree nuts, peanuts, sesame seeds, soy)