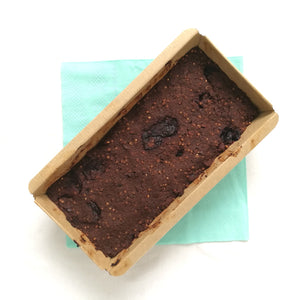 We combine authentic dark chocolate (100% cocoa bean mass) with the bright flavour of natural cherries and real vanilla bean seeds for a delicious rich slice. Cacao nibs add crunch and wholesome natural cocoa bean aromas. Wholesome chia and quinoa contribute fibre and protein. Our special blend of fruits and cherry pieces lightly sweeten the strong dark chocolate flavours.
Dark Chocolate Cherry Slice
INGREDIENTS: cherries (21%), cocoa mass (15%), water, dates, apple, cacao nibs, puffed quinoa, chia seeds, coconut flour, vanilla bean seeds
ALLERGEN INFORMATION: whilst due care is taken, our kitchen may have present: tree nuts, peanuts, sesame seeds, gluten, wheat
Serving: to remove from tray, carefully run a fine sharp knife around the edge of slice to release. Cut or tear corners of paper tray to fold down.
Storage: for best results, refrigerate and consume within 5 days. May be frozen.
Wholefoods
Plant-based
Sweetened exclusively with fruits
No added oils
Sulphur-free
Vegan
No added salt
Nutrient dense
Wholesome
Delicious